Schubert Contrasts Beethoven as Freedom v. Structure. Most agree that Beethoven was the link between the Romantic and the Classical periods of music. Schubert's life overlaps Beethoven's. Schubert life was much shorter. January 1797 – 19 November 1828), He was an Austrian composer. Schubert died at age 31. But he was extremely prolific during his lifetime. His output consists of:
Ludwig von Beethoven  was baptized 17 December 1770[1] – 26 March 1827. He outlived Schubert by some 26 years. Schubert was born when Beethoven was 27 years of age. However Franz Schubert picked up the Romantic ball of composition and pushed it further. Classical music most often had significant development sections in a sonata, or symphony.  Here the parts or pieces of a theme were developed to show off the composer's ingenuity. Schubert's themes resist "development. Most are complete in themselves. Alfred Einstein discusses also this topic in his Music in the Romantic Era.  To quote him about Schubert: " His themes have felicity in themselves. They resist dissection: development."
To read more about my thoughts on Beethoven, click on this internal link above.
How Schubert Contrasts Beethoven with the "Development" of his Themes
With Beethoven, any "side-stepping" keeps the theme in mind. His "digressions" are parallel paths to the theme. Schubert, in contrast,  becomes involved in the mist of a beautiful melodic journey. Development is often not called for. To him it seems too intellectual.
Romanticism's span was approximately from 1800 – 1850.   It elevated folk art and ancient custom to something noble. Spontaneity became a desirable characteristic (as in the musical impromptu). Some of Schubert's great creativity is to be found in with his Impromptus.  In contrast to the Rationalism and Classicism of the Enlightenment, Romanticism revived medievalism[7] . Elements of art and narrative perceived as authentically medieval. This was an attempt to escape population growth, early urban sprawl, and industrialism.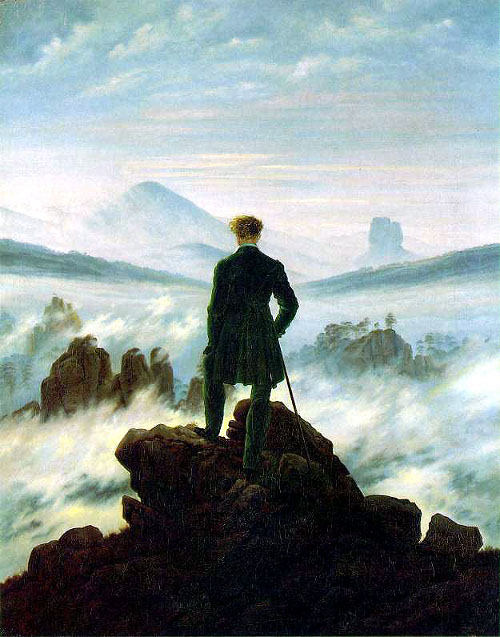 We Need a Return to Romanticism
We need the return of beautiful song once more. "Composing" today is created by formula. Many songs of today use only three harmonies. The three harmonies always appear in the same order. Their melody is about as limited as their harmony to three tones.  Here is the point: When you feel constricted by difficult times, you need to "cut loose." Singing or performing constricted music can make you feel even more hemmed-in. Our current composers need the style of the "beautiful melodic journey" of Schubert.