Musical Inversions Run Parallel to Platonic Solids. Two concepts must be understood. (1) Inversions of triads. (2) The regular polyhedron property called duality. I will demonstrate musical inversions with the "C" major triad. For our purposes, every other note starting with "Middle "C" on the piano. That makes for C-E-G. These notes can be turned around, A.K.A. inverted. Then we have E-G-C and G-C-E.  Musical inversions once more returns us to C-E-G. They look and even sound different.  But they are still the same basic 3 tones.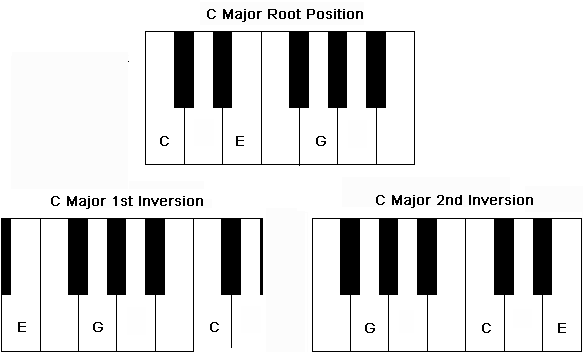 Now for the parallel property with the regular polyhedrons. First, we must look at a chart that defines their topological features. Note the octahedron-cube pair. The octahedron has 8 faces. The cube has 8 vertices. The octahedron has 6 vertices. The cube has 6 faces. Like musical inversion, the order changes from one to the next. We could also say the 2 geometrical figures are related like a musical inversion of the "C" triad.
Look at the next pair: The icosahedron has 20 faces. The dodecahedron has 12 faces. Next: The icosahedron has 12 vertices. The dodecahedron has 20 vertices.  Again we have a parallel to musical inversion. They may seem or look different. However, they simply re-arrange their topology but the same numbers.
The octahedron can be drawn inside the cube with vertices centered on each face of the cube (picture below). The same applies to the pair of the pair of the icosahedron and dodecahedron (picture below). Again, they are as closely related as inversions of the basic musical triad.
The grandest parallel between our music and the Platonic solids is found between the dodecahedron and our circle of fifths. Our circle of fifths has 12 basic key signatures (not counting enharmonic keys). Each one is located the distance of a musical fifth from the last one. The dodecahedron has 12 faces of pentagons (5 faces). You can superimpose the basic outline of the circle of fifths on a dodecahedron. Conclusion: over 2,500 years ago ancient civilizations thought of architecture as frozen music. Indeed, music and these 5 geometrical solids have strong parallels. To acquire the ability to gain such insights, I suggest musical instruction for our children. Plato said music should be mandatory study until the age of 30.
Cartesian coordinates
Figure
Tetrahedron
Octahedron
Cube
Icosahedron
Dodecahedron
Faces
4
8
6
20
12
Vertices
4
6 (2 × 3)
8
12 (4 × 3)
20 (8 + 4 × 3)
Orientation
set
1
2
1
2
1
2
Coordinates
(1, 1, 1)
(1, −1, −1)
(−1, 1, −1)
(−1, −1, 1)
(−1, −1, −1)
(−1, 1, 1)
(1, −1, 1)
(1, 1, −1)
(±1, 0, 0)
(0, ±1, 0)
(0, 0, ±1)
(±1, ±1, ±1)
(0, ±1, ±φ)
(±1, ±φ, 0)
(±φ, 0, ±1)
(0, ±φ, ±1)
(±φ, ±1, 0)
(±1, 0, ±φ)
(±1, ±1, ±1)
(0, ±1

/

φ, ±φ)
(±1

/

φ, ±φ, 0)
(±φ, 0, ±1

/

φ)
(±1, ±1, ±1)
(0, ±φ, ±1

/

φ)
(±φ, ±1

/

φ, 0)
(±1

/

φ, 0, ±φ)
Image